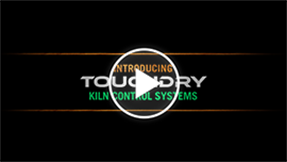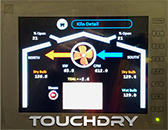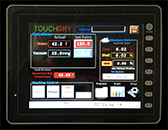 NOW FULLY INTEGRATED WITH KILN SCOUT MOISTURE METERS.  Fully automated kiln control is here thanks to our partnership with Kiln Scout Moisture Meters by the Finna Group. 
The TOUCHDRY® kiln control system is now available for Conventional Kiln Lumber Drying. This revolutionary system provides massive energy savings, improves yield, quality and drying time. TOUCHDRY integrates a Kiln Scout and Lignomat wireless moisture meters, EMC and a 8.4″ color touch screen for simple to use and accurate controls, made for any operator to use with very little training.
Easy To Use
Kiln operators will wonder why it took this long to get a kiln control that just works and doesn't take a computer programmer to run.
Simple Control
Set the wet bulb/dry bulb manually or run a preset drying schedule in Automatic Mode
Monitor moisture loss and allow EZDry to run the kiln for you while still giving the operator control
Help Buttons on every page offer instructions on drying and the TOUCHDRY® program
Energy Management Control Systems
Take advantage of existing VFD controlled fans to save energy
Don't have VFDs on your fans motors? You should! We'll build you an entirely new control panel….but don't worry your electric utility company will probably pay for it
Increase drying quality and decrease drying time by using the TOUCHDRY software included
Historical Graphing of
Heating Temperature (Wetbulb/Dry bulb)
Wood Core Temperature
Moisture Content
EMC
Integrated Wireless Moisture Control
20 point user calibrated for extreme accuracy
Large plate type sensors give a reliable sample size
Automatically calibrated for wood temperature and species
Graphs Average Moisture Content on every screen